(At the moment, I find myself switching between very flighty things and much more serious issues. This post is about the former.)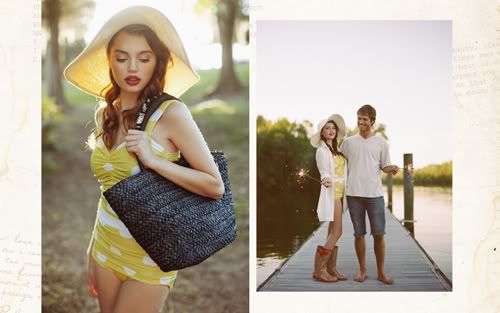 "Unending Love" Lookbook" @ Ruche

I think I found
Ruche
via
wikidwitch
, and be forewarned, it can be a dangerous site! It bills itself as "a modern boutique with a vintage touch" and everything is adorable. It re-kindles my wish to have a wardrobe filled with lovely vintage clothes, especially dresses. Alas, I shall have to continue to build my vintage-esque wardrobe slowly, but at least I can keep in mind what I like and add specific pieces intentionally to my collection.
However, I've been in need of new bathing suits for ages. The best I have is a kids sports swimsuit which does
nothing
to flatter my extremely petite figure. (Read: I'd rather not look like a pre-pubescent girl.) I've been keeping my eye open for years now but it's been impossible to find something I really like, especially when most bathing suits out there are bikinis, and it's really hard to find a cute, modest suit.
Then I browsed "Ruche" and violà!
Two
bathing suits awaited me.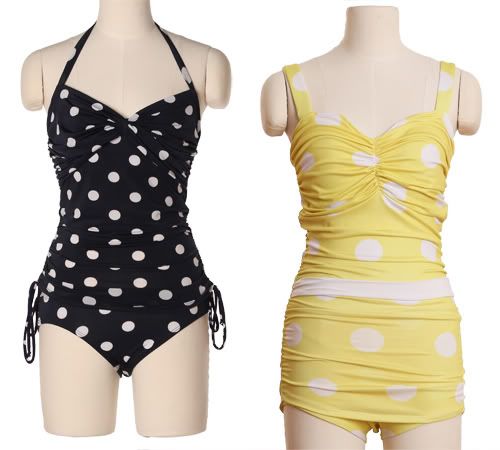 "Audrey Navy Polka Dot" and "Sunshine Splendour"
They're adorably vintage and they both came in my size! (I'm an XS or size 0 so it can be frustrating to find thins small enough.) The price tags were a major splurge for me, but it's not abnormal for bathing suits to be $70 or $80. At least now I'm working, with a regular and decent-sized paycheck coming in — so I snatched them up. Plus, what better time to get cute bathing suits than at the beginning of summer? So now I await their arrival in my mailbox and dream of hot, sunny weather to lounge by (and have fun in) a pool or beach...
I highly recommend looking through Ruche's
"Unending Love" Lookbook
— it's gorgeous and seems inspired by the movie "The Notebook." Plus, the clothes modelled are reasonably priced and available, should you fall in love with something.
Or you can just enjoy the pretty pictures for inspiration and fun.